Sri Lankan Biology Olympiad 2016
The Biology Olympiad examination will be conducted from 10.00 am to 12.00 noon on Sunday 26 June 2016. We have posted your admission cards. You can also print Your admission cards here
http://admission.iobsl.org/
Print Your Certificate  Apply 2016 Biology Olympiad
Results    Medals Winners    Award Ceremony
Sri Lankan Biology Olympiad 2015
Sri Lankan students can now compete and win medals in Sri Lankan Biology Olympiad 2015. Four students will also be selected to participate at the International Biology Olympiad to be held in Vietnam in 2016.
Eligibility:
Students sitting for Local or London A/L exams in 2015 or 2016 are eligible to apply. There is no age barrier for the local competition, but to participate in the international competition, The student should be below 20 years of age on 30 June 2016.
How to apply: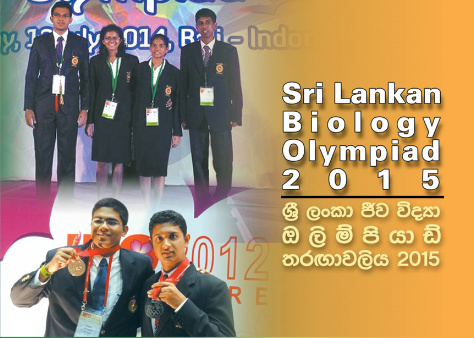 Sri Lankan Biology Olympiad Competition:
The examination to select the winners will be conducted from 10.00 am to 12.00 noon on Sunday 28 June 2015 at the following Centers:
University of Colombo, Colombo
Eastern University, Batticaloa
University of Jaffna, Jaffna
University of Peradeniya, Peradeniya
University of Ruhuna, Matara
University of Sri Jayewardenepura, Nugegoda
Candidates are required to sit for two hour paper with 40 MCQ questions and 20 short answer questions.
The examination is mainly based on G.C.E. Advanced Level Biology curriculum (excluding Applied Biology Unit) and may also include questions on the current developments and the applications of Biology.
Candidates can choose to sit for the examination in Sinhala, Tamil or English medium.
Admission cards will be sent to the selected candidates before 20 June 2015.
Selection of Winners:
Gold, Silver or Bronze medals will be awarded to selected candidates based on their performance. Decision of the council of the IOB shall be final in the selection of winners.
Those who score more than 50% of the marks will be awarded a merit certificate from IOB. All results will be published in IOB website (iobsl.org).
For details contact: SLBO coordinating center at Department of Forestry and Environment Science, University of Sri Jayewardepura. (Kasun 072-4589392 or Binoy 0776989975)
Download details and Application forms
Application form: Sri Lankan Biology Olympiad 2015 Application
SLBO details:
sri lankan biology olympiad 2015 English details
sri lankan biology olympiad 2015 Sinhala details
Past Examination Papers
You can download examination papers here.
Medal Winners at Past International Olympiads
Singapore 2012 – Siver Medal, Bronze Medal and Merit Awards
Taipei, Taiwan, 2011 – Silver Medal
Tsukuba, Japan, 2009– Two Bronze medals