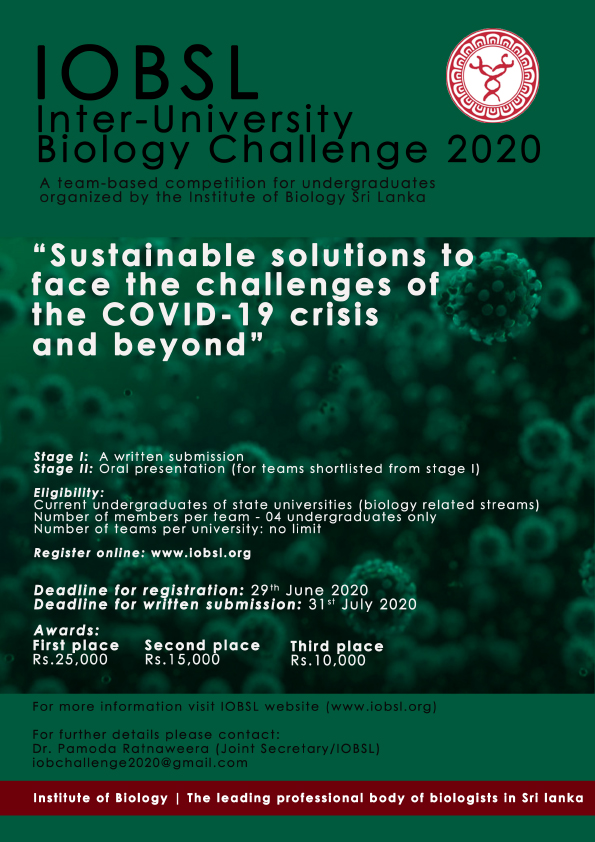 IOBSL Inter-university Biology Challenge 2020
Organized by the Institute of Biology Sri Lanka (IOBSL)
Promoting and advancing the science of biology and its applications in Sri Lanka is an important objective of the Institute of Biology. Therefore, as an Institute it is our duty to inspire and challenge university undergraduates to find solutions to current issues using their knowledge of biology.
It is in this light we present the theme for the IOBSL Inter-University Biology Challenge 2020:
"Sustainable solutions to face the challenges of the COVID-19 crisis and beyond"
The COVID-19 pandemic has Sri Lanka and the whole world facing many challenges in the environmental, economic, health, and social spheres.  The purpose of the competition is to tap into the minds of undergraduates to both identify and thereafter provide sustainable solutions to these challenges.
Eligibility:
Current undergraduates (of state universities) will participate in teams of 04 members
Number of teams per university: no limit (however, one student can only represent one team)
Structure of the competition:
It will consist of 02 stages;
Stage I: A written submission of no more than 2000 words (teams will be shortlisted based on this)
Stage II: Shortlisted teams will present their write-up as an oral presentation
Awards:
First place – Cash prize of Rs. 25,000 + Trophy
Second place – cash prize of Rs. 15,000
Third place – Cash prize of Rs. 10,000
Certificates awarded for all teams reaching Stage II of the challenge
Timeline for the competition:

Further information: