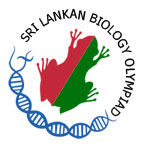 Sri Lankan Biology Olympiad was held on 4 November 2012 (Sunday) from 10.00 am to 12.00 noon at the following Centers: University of Colombo, Eastern, Jaffna, Peradeniya, Ruhuna and Sri Jayewardenepura
Biology Olympiad 2012 – Results
Check your results based on your examination center.
University of Colombo
Eastern University
University of Jaffna
University of Peradeniya
University of Ruhuna
University of Sri Jayewardenepura
Medal Winners
Based on the results, 13 Gold, 20 Silver, 27 Bronze Medals and 35 Merit certificates are to be awarded. Award Ceremony will be held on 19 February 2013 at Mahaweli Centre Auditorium, 69, Ananda Cumaraswamy Mawatha, Colombo 07 at 9.30 am.
Best three students will also be felicitated with other National Olympiad winners (such as Physics, Mathematics Olympiad) at World Science Day Ceremony, organized by National Science Foundation.
Those who score more than 50% of the marks will be awarded a merit certificate from IOB. You will receive your certificate by post in due course.
Participation at International Biology Olympiad 2013 in Switzerland

Four students will be selected to participate at the International Biology Olympiad 2013, to be held in Switzerland, Bern from 14 – 21 July 2013, after the Second Round examination of the Sri Lanka Biology Olympiad 2012, which would be conducted for the eligible gold and silver medallists. To participate International Competition the contestants should be born on the 1st of July of 1993 or later (below 20 years of age).