Bronze Medal for Sri Lanka at International Biology Olympiad 2015
Sharaka Hashan Yapa of Maliyadeva College Kurunegala won Bronze medal and Hiruni Udara of Sujatha Vidyalaya Matara received a Merit award at International Biology Olympiad 2015 held in Aarhus, Denmark from 12 to 19 July. Akila Imantha of Servatius College Matara  and Vikum Pivithuru of Vidyaloka College Galle also participated this competition with two Jury members: Prof Hiran Amarasekera  and Prof Nissanka de Silva of University of Sri Jayewardenepura.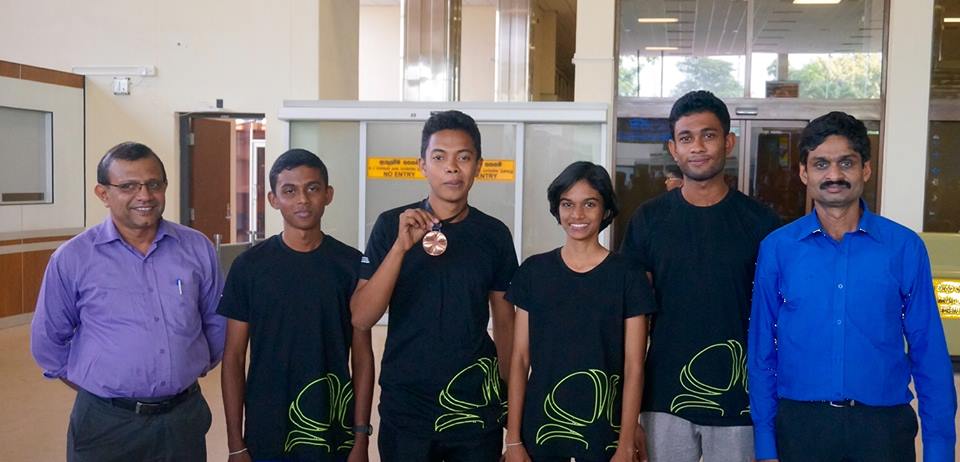 450 talented young students and Jury members from 61 countries participated in this competition.
The Sri Lankan participants were selected in the national competition conducted by Institute of Biology, Sri Lanka with the participation of 1,600 Advanced Level students in June 2014 in six Universities: Colombo, Sri Jayewardenepura, Ruhuna, Peradeniya, Eastern and Jaffna. From the initial competition selected Sri Lankan Gold Medalists were trained on Laboratory and theory knowledge  by Professors and Lecturers at University of Sri Jayewardenepura, Colombo and Kelaniya. Students were especially trained for Practical expertise in Molecular biology, Microbiology, Plant anatomy, Biosystematics, Animal Functional Morphology and Biochemistry using University laboratories.
The International Competition was based on Theory and Practical Examinations on  knowledge and expertise in Biology. In addition to provide inspiring scientific challenges and the chance to win medals, the competition gave the youngsters a unique opportunity to get together with other young people with an interest in science.
Argentina, Armenia, Australia, Azerbaijan, Belarus, Belgium, Brazil, Bulgaria, Canada, China, Cyprus, Czech Republic, Denmark, Estonia, Finland, Georgia, Germany, Greece, Hungary, India, Indonesia, Iran, Italy, Japan, Kazakhstan, Kyrgyzstan, Latvia, Liechtenstein, Lithuania, Luxembourg, Malaysia, Mexico, Moldova, Mongolia, Montenegro, New Zealand, Nigeria, Pakistan, Poland, Portugal, Romania, Russia, Singapore, Slovakia, Slovenia, South Africa, South Korea, Spain, Sri Lanka, Sweden, Switzerland, Syria, Tajikistan, Taiwan (Chinese Taipei), Thailand, Turkey, Turkmenistan, Ukraine, United Kingdom, United States of America, Uzbekistan and Vietnam participated for this completion.