Citation Presented by Dr. NirmaliePallewatta, Department of Zoology, University of Colombo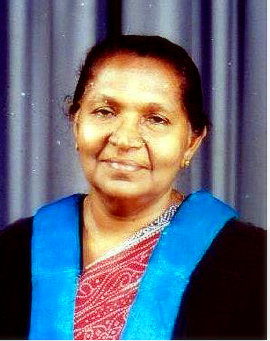 Prof. Nalini B. Ratnasiri hails from Ratnapura and had her early education at the Convent of Child Jesus, Ratnapura, and later at CMS Ladies College, Colombo. In 1960, she entered the University of Ceylon and read for a BSc Special Degree in Zoology and graduated with Second Class Upper Division Honours in 1964. Thereafter, she joined the University of Ceylon, Peradeniya Campus as an Assistant Lecturer in Zoology. In 1966, she decided to be an applied scientist and took up a research position at the Central Agricultural Research Institute of the Department of Agriculture, Gannoruwa. She proceeded for post-graduate studies to the University of Illinois, USA on a Fulbright-Hays Scholarship followed by a Ford Foundation Scholarship.
She returned to Sri Lanka in 1973 with a PhD in Entomology and served the Department of Agriculture as a Research Officer at the Dry Zone Research Station at Maha-Illuppallama for a short period of time. From 1974 to 1983, she worked at the Department of Forest Conservation as a full-time research entomologist. In this position she taught as a visiting lecturer to several universities, Kelaniya, Peradeniya, Sri Jaywardenapura, and the Faculty of Science, University of Colombo. In 1983, she joined the Open University of Sri Lanka as the Professor of Zoology in which position she continued up to the time of retirement in 2005.She is the founder Professor of Zoology at the Open University and became the Senior Professor of Zoology in 1986. Prof Ratnasiri pioneered the teaching of Zoology in distance education giving the academic and administrative leadership. In 1986, Prof. Ratnasiri became the Founder Dean of the Faculty of Natural Sciences at the Open University and was appointed to the Chair in Zoology. She served as the dean for six years.
She has played a key role in the rapid development of the Open University that took placed uring her tenure as an academic and as the dean. The programme leading to the BSc degree in Natural Sciences was developed under her leadership. She was also instrumental in developing the BSc degree programme in Nursing at the Open University, the first such university programme in Sri Lanka. In recognition of her expertise and contributions to distance education in science, the Open University awarded her the D.Lit. degree (Hon. Causa). She is an Emeritus Professor in Zoology of the Open University.
She has contributed significantly to national development in her fields of expertise and as an administrator from a scientific field. She has served as a Member and Vice-Chairperson of the University Grants Commission in 1994. She also rendered services to severalgovernment departments, by her appointment to key committees such as the Department of Examinations, The National Education Commission, Ministry of Higher Education and Sri Lanka Country Office of United Nations Development Programme. The Quality Assurance Programme of the Ministry of Higher Education has gained from her contribution to establishment of benchmarks for the subject of Zoology. She is a past member of the Governing Board of the Natural Resources, Energy and Science Authority and the Post-Graduate Institute of Science of the University of Peradeniya. She has served the National Science Foundation as the Chief Editor of its Journal from 2005 and continues to do so at present.
She was appointed to the National Science and Technology Commission as a member in 2004 and as Chairperson in 2006 and served in that capacity up to 2012. Her key contribution at NASTEC was the development of the current National Policy on Science and Technology.
Professor Ratnasiri is a highly respected and much admired person in the university system and outside of it. She has been a teacher, a guide and a mentor to many of us who are in this room today. She is known for her ready smile, friendliness and humble attitude despite all her achievements. Above all she is a very warm and genuine person who has been a friend to so many of us who have had the privilege of being her students and colleagues. Many are the occasions where we have enjoyed her generous hospitality when we have visited her home to discuss academic or other official matters.
The field of Biology, especially Entomology in Sri Lanka has gained much from Madam Ratnasiri's tireless efforts to promote the discipline. At a time when entomologists are becoming an endangered species themselves in Sri Lanka, we should record our sincere gratitude to Madam Ratnasiri for her selfless contribution to it. It is indeed very fitting and timely that the Institute of Biology, Sri Lanka is paying tribute to Professor Nalini Beatrice Ratnasiri, the biologist,in the presence of this distinguished gathering of academics and scholars.
Madam, on behalf of the Institute of Biology I wish you and your family the very best in all your endeavours, good health and contentment.