IOB Quiz – 2022
IOBSL is organizing the Inter-University Biology Quiz Competition for the undergraduates of State Universities for the 5th consecutive year in 2022. The competition aims at providing undergraduates with a novel educational experience and enhancing their interest in biology. The competition will also provide an ideal opportunity for collaboration and inspiration among students, academics and universities across the country.
The competition consists of two stages
Stage I – 24th May 2022

One hour MCQs/short questions paper (online)
Participants will be chosen for Stage II of the competition based on marks obtained for the Stage I examination.
The deadline for registration is 30th April 2022
Register now for IOB Quiz
Register Now for IOB - Quiz
Application fee
Rs. 300/=
A direct bank deposit (online/physical) can be made to the "Institute of Biology, Sri Lanka" account at Peoples Bank, Thimbirigasyaya branch (Account number 086-100141191763).
Guidelines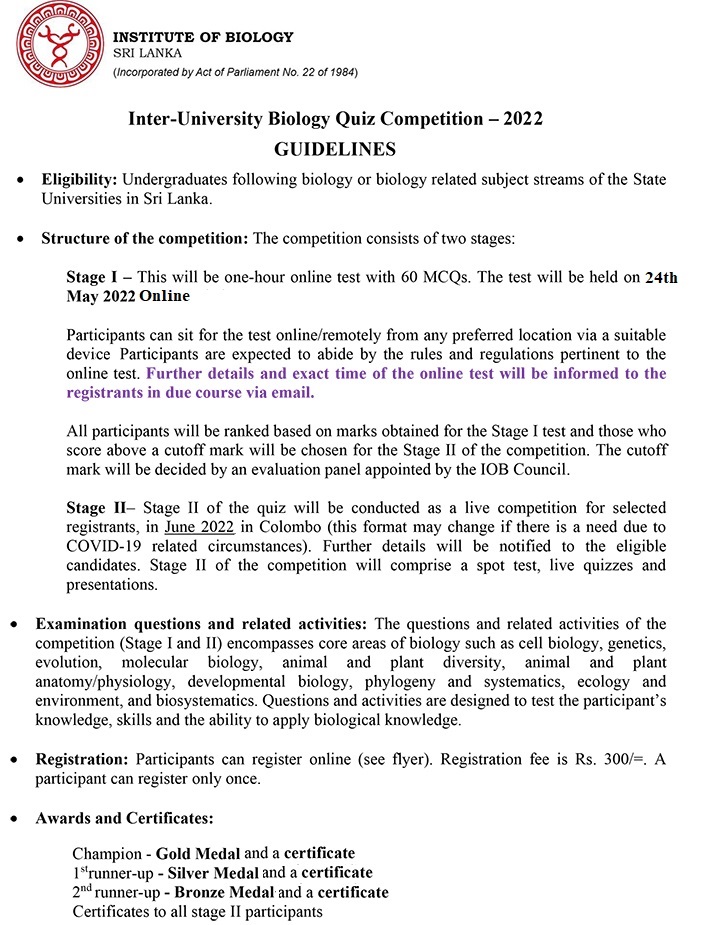 Further details
Dr. Devanmini Halwatura – 0718113301
Dr. Uthpala Jayawardena – 0777259695
Flyer