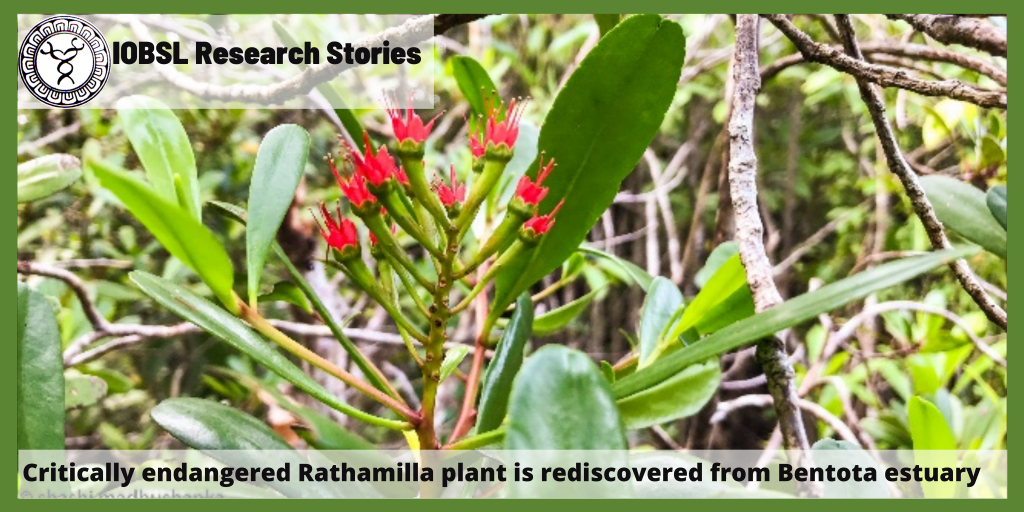 Lumnitzera littorea (Ratha milla )is a true mangrove species that has been considered critically endangered in 2007, 2012, and 2020 National Red Lists of Sri Lanka. It was found only in Madu Ganga Ramsar site until recently. Bringing new hopes towards its conservation, a rediscovery of the Lumnitzera littorea has now been made from the Bentota estuary, where it has previously been recorded a century back. This newly found population is of great significance due to the considerable number of young plants it carries.
Lumnitzera littorea (Jack) Voigt (E: Red Teruntum, S: Rathamilla) of Family Combreataceae is a native mangrove species of Sri Lanka. It is considered a critically endangered and very rare species due to the smaller number of trees found in the wild in Sri Lanka. The only known population so far was found in the Pathamulla area in the Madu Ganga wetland which was discovered in 1983. However, this population represents a few old trees, hence having a low regeneration potential. However, the presence of L. littorea had also been recorded in Bentota in 1894, although the lack of records during the recent past from Bentota estuary caused botanists to believe the population has disappeared. A new Lumnitzera littorea population was recently discovered by a team of researchers from the Dedduwa area in the Bentota estuary. This population has young individuals that can be useful in seed propagation and can contribute to the future conservation of this plant. This population consists of more than 100 young trees aged between 10 to 20 years excluding saplings and seedlings. However, according to the researchers' observation, this new population is facing numerous anthropogenic pressures.
This mangrove species bears not only an ecological significance but also socio-economic importance. It is grown as an ornamental plant in countries such as Thailand and Singapore due to its conspicuous red flowers. The wood of the plant is heavy, fine-grained, durable, and yellow-brown making it suitable for construction, building boats, and as fuelwood. Several studies suggest that it has therapeutic effects due to the bacteriostatic and bactericidal properties of L. littorea extracts against bacterial species namely Staphylococcus aureus, Bacillus cereus, and Escherichia coli which are known to cause pathogenic effects. As such, the conservation of this mangrove plant not only benefits the ecosystem but also the human community as well. Therefore, it is of utmost importance to implement immediate conservation actions to protect this plant and prevent further damage to this population. The rediscovery of this endangered plant not only enhances the value of our environment but also replenishes the entire biosphere while applauding the efforts of conservationists to preserve mother nature.
References
Gunawardana, B. H. S. M., Ranawana, K. B. & Prasanna, M. G. M. (2022). Density of Critically Endangered Mangrove Lumnitzera littorea (Jack) Voigt in Newly Recorded Locality of Bentota Estuary, Southwestern Sri Lanka, Proceedings of the 26th International Forestry and Environment Symposium 2022 of the Department of Forestry and Environmental Science, University of Sri Jayewardenepura, Sri Lanka, pp. 40.
Madhushanka, S. & Ranawana, K. B., 2022. Rediscovery of Critically Endangered Mangrove Lumnitzera littorea (Jack) Voigt (Combreataceae) from Bentota Estuary, Sri Lanka. World News of Natural Sciences, Volume 40, pp. 86-90.
Story by