The concept of renewable fuels has gained a growing interest among scientists with the increase of global energy consumption and the depleting fossil fuel reserves that may fail to keep up to the demands in near future.
In a study, a team of researchers led by Snr. Prof. Pathmalal Manage, Dean of the Faculty of Graduate Sciences and Director, Centre for Water Quality and Algae Research, Department of Zoology, University of Sri Jayewardenepura have extracted cyanobacterial lipids from Microcystis spp isolated from the Beira lake, Sri Lanka and investigated its potential to be used for biodiesel production.
Cyanobacteria represent a practical feedstock, having huge potential due to their increased growth rate, efficient photosynthesis and faster accumulation of lipids in them. Neutral, saturated lipid molecules found in cyanobacterial fatty acids are a means of high energy storage and are hence well suited for commercial-scale biodiesel production.
In 2016, the team began an effort to synthesize biodiesel as their first step employing an optimized solvent system. The system was evaluated by them to ensure best results. The incorporation of ethanol and isopropanol as co-solvents increased the total lipid production of the pure n-hexane system and had the highest lipid extraction (4.3 wt%) and fatty acid methyl ester composition (92.39%). This system presents an effective and energy efficient system as a cost reduction strategy.
Identified as the best suited biofuel type for compression ignition engines, biodiesel is also environmentally friendly due to reduced release of sulphur, carbon monoxide and carbon dioxide, which conforms to a reduced contribution to air toxicity, global warming and lung cancer.
Their efforts have not stopped here. The team has also extended its research work towards bacteria- mediated bioethanol production by isolating 'Cellulase – producing bacteria' that had been isolated from cow dung, compost soil and termite gut. This was the first study reported in Sri Lanka on the isolation of putative cellulase-producing bacteria from termite guts.
Cellulose being the most abundant biopolymer in nature could be used successfully in biofuel production. The abundance of Sri Lankan paper waste which is currently to no purpose, stands as a promising sustainable and cheap feedstock for generating second-generation bioethanol.
So moving forward, they have employed the bacterial strains, Bacillus sp. and Norcadiopsis sp., which hydrolyzed the pretreated biomass of corncobs and paper waste followed by fermentation with Achromobacter sp all isolated from their previous study.  The cellulase enzyme activity of Nocardiopsis sp.  was found to be the highest in the study. However, simultaneous sacchrification and fermentation by both Bacillus sp.  and Achromobacter sp.  has resulted in the highest ethanol percentage.
Both the biodiesel extracted from Microcystis spp as well as bioethanol produced by fermenting paper waste has been tested and found to comply with fuel parameters of Ceypetco standards and signifies its use in Compression Ignition engines according to this study without any modifications.
Other members of the Research team from Centre for Water Quality and Algae Research, Department of Zoology are Mr. D. A. T. Madusanka, Ms. W. M. L. I. Weerasinghe, and Ms. Y. S. Chandrasiri.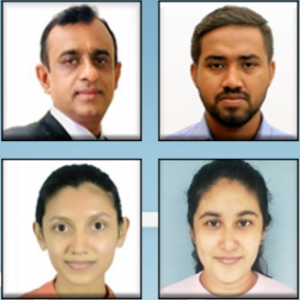 References
https://www.sjp.ac.lk/news/bioethanol-from-cyanobacteria-and-paper-waste-the-centre-for-water-quality-and-algae-research/
D.A.T, M. a. (2018). Optimising a solvent system for lipid extraction from cyanobacterium.
Manage, T. M. (2018). Potential utilization of microcystis sp. for biodiesel production: Green solution.
Weerasinghe Mudiyanselage Lakshika Iroshani Weerasinghea, D. A. (2021). Isolation and Identification of Cellulase Producing and Sugar Fermenting Bacteria for second- generation Bioethanol production.
Yasindra S. Chandrasiri1, W. L. (2022). Waste-Based Second-Generation Bioethanol: A Solution for Fture Energy crisis.
Story by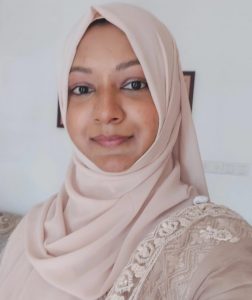 Shafana Shafeek
Associate Member – IOB